Kris Allen has revealed when an accompanying music video for his single "Live Like We're Dying" will come out. "Hey everyone the video for live like were dying is gonna be out nov 6! Watch it!" he wrote on Twitter.
"Live Like We're Dying" is the lead single off Kris' self-titled album "Kris Allen" and has been played on radios since September 21. It is a cover version of The Script's 2008 song which didn't make it to the band's debut album "The Script" but appeared in a b-side of their mini album "We Cry".
The album is slated for November 17 U.S. release. Snippets of its thirteen tracks have been made available for stream on Amazon Germany earlier this week. Four of them have been showcased live at Dolphin's Tailgate Stage Sunday, October 25. Most recently, a footage showing the album's photo shoot has been found.
Kris Allen will perform at New York City's Z100 Christmas Ball on December 11. He will be joined by David Archuleta, Jordin Sparks, Taylor Swift, John Mayer, Justin Bieber, The Fray, Boys Like Girls, Pitbull, Owl City and Jay Sean.
Download
Live Like Were Dying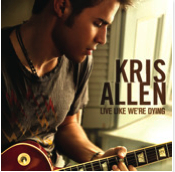 Now!