Sometimes, good guys do finish first. That's what supporters of "American Idol" winner Kris Allen believe on the eve of the debut release from last season's soft-spoken champion.
With Allen's album due Tuesday, the long journey from surprise winner to young man on the cusp of superstardom is just beginning. Though, in typical Allen fashion, the buildup to his musical debut has been much more subtle than the fireworks and silver lip-gloss barrage of news and images from runner-up Adam Lambert.
In fact, until the leak of Allen's album last month, the premature release of snippets of his songs two weeks ago and the recent debut of his big budget-looking first video, news about Lambert appeared to be vastly overshadowing updates on the guy who actually took the "Idol" crown all those many months ago.
"Absolutely, I've noticed the discrepancy in coverage," said Josh Jenkins, a friend of Allen's and webmaster of a fan site. "Am I surprised? Not at all. The media deals in extremes, in controversy, and Adam is certainly that. Kris' boy-next-door image isn't extraordinary. In fact, I'm sure we all know plenty of nice guys who resemble Kris. But one could argue, of course, the fact that Kris is ordinary is what makes his success more remarkable than Adam's."
Jenkins said he was not bothered by the seeming media bias leading up to the release of Allen's debut, because he believes the married Arkansas, native with the quiet, polite demeanor has the chops to release multiple albums and build up a solid fanbase. "If his music is any good, then the coverage, the fanbase and the critical acclaim will take care of itself," he said.
Those sentiments were echoed by MJ Santilli, the founder of a popular "Idol" blog, who said she'd noticed the coverage discrepancy, along with Allen's fans. "The media seems to be in love with Adam, as they were all through the competition," she said of the musical-theater belter whose flashy goth/ club-kid style and coy reveal of his sexuality has earned him practically nonstop coverage since "Idol" wrapped at the beginning of summer. "He's a big, colorful personality with an interesting backstory. He's mad talented. It will be interesting to see if he'll live up to the hype and become the superstar some in the media are predicting."
Allen, on the other hand, is the low-key type who appears to shy from the limelight almost as much as Lambert is drawn to it, even as he has begun doing more interviews and appearances to promote the album over the past few weeks. "His project, on the surface, seems more conventional than Adam's, and his collaborators aren't quite as sexy," she said of such Lambert ringers as Lady Gaga, Muse and Rivers Cuomo of Weezer. Allen, on the other hand, has written with less splashy collaborators such as the Fray's Joe King, Switchfoot's Jon Foreman and former "Idol" finalist Chris Daughtry, whose song "Send Me Down an Angel" will be a bonus track on the Wal-Mart version of Allen's album. "However, I still think it's going to all come down to the records Adam and Kris put out. In Adam's case, the hype surrounding him will help him, but it won't guarantee success."
One reason Allen's first single, "Live Like We're Dying," might not have gotten as much breathless hype as Lambert's first two songs — the "2012" super-ballad "Time for Miracles" and the glitter-sprinkled, dance-remix-ready title track "For Your Entertainment" — is because Allen's song is yet another cover. That's the theory espoused by Derrius Lockett, webmaster of an Allen-centric website, who likes Allen's do-over of the tune by Irish pop band the Script but was hoping for an original for the first single. "Live Like We're Dying" has gotten a solid, if slow, start on the Billboard Hot 100 chart, resting at #92 at press time after hitting #89 following its release and settling in at #38 on the current top 40 chart. By contrast, Lambert's "Miracles" debuted at #50 on the Hot 100 two weeks ago before falling out of the running, while "For Your Entertainment" has not yet charted.
"We, the fans, just wanted something new," he said. "As for Adam, I think it's just because he has all these star friends like Katy Perry, Ferras and many others. He even went to the Michael Jackson premiere in London with Katy Perry, where he could talk about his new song — which I do love — and CD, [and] before that he did the announcement for the American Music Awards, which I think Kris should have done."
Lockett lamented that the only places he's seen Allen are at a recent Miami Dolphins football game and some other scattered appearances that don't add up to the blitz from Lambert. That said, "Kris has the star potential, too, and I think his CD will be #1 on the charts," Lockett predicted.
Download
Live Like Were Dying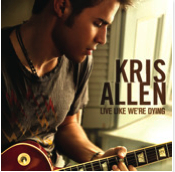 Now!