The people have spoken--and they love Kris Allen. The American Idol winner was nominated for Favorite Breakout Artist and he took time out of his busy schedule to talk to Hollyscoop about his upcoming album, adapting to life in LA, and being a People's Choice nominee.
Here are some highlights from our exclusive one on one interview:
Hollyscoop: You won American Idol and now you're getting all the nominations, do you feel good?
Kris Allen: "Ya, Its cool man, I have been nominated for stuff before and this one is definitely a huge deal. People Choice is a big deal so, I heard my sitting down and talking to someone, and I was like oh cool."
HS: So along with that you have a new album coming out next week.
KA: "Yes, I have the album coming out next Tuesday, November 17. I'm really excited about it. There are 12 songs on there. Nine of them are co-written or written by me. I got one song in there that I had written couple of years ago. I had an awesome time writing the stuff and some really good stuff that I'm proud of."
HS: Fans have been waiting for a while so what could they expect from it?
KA: "I think that, the things I pay attention to, I wanted it to be songs that listening back to that I would like and sound like the stuff that I like listening to and so I try to pay attention to that which is you know focus on lyrics and like meaning, melodies and all that stuff."
HS: The first single is out already, is that your favorite track on the album?
KA "I wouldn't say that's my favorite track."
HS: Do you have a favorite track?
KA "I do have a favorite track, it's this song I wrote a couple years ago, its called Red Guitar."
HS: And what is that about? What is the low down on that?
KA : "It is about a guitar."
HS: So how has your life changed since American Idol, winning the competition, how has it been different for you?
KA: "It's just different. I live in LA now you know? I never thought that would happen growing up I never imagined myself living in LA, so this is cool and I get to get nominated for the People's Choice Awards, I get to these TV shows, its just my life has completely changed."
HS: You seem very normal and humble
KA: "Thanks a lot, I try not to be too jaded."
HS: What was your first job?
KA: "My first job ever I worked at TCBY, yogurt.
HS: So you know how to make yogurt at home now?"
KA: "I don't know if I know how to make it, I know how to pull the lever down."
HS: When you go to Pinkberry now your like I know how that works!
KA: "I do go to Pinkberry, right."
HS: What are you doing for Thanksgiving? Are you going back home?
KA: "Yeah, I am going back home to spend some time with family for a couple days."
HS: So what are you thankful for this year?
KA: "I'm thankful that I get to make music and make albums and stuff like that. That's the thing that I would say I'm the most thankful for. "
HS: What are you going to do for the New Years Eve and for the holidays?
KA: "I'm going to go home for Christmas, I don't know what I'm going to do for New Years! Maybe hangout with some friends. I have always talked about going to New York, so we'll see what happens."
HS: Is everything good with you and your wife, Hollywood's treating you guys well?
KA: "Yeah, Absolutely."
HS: How do you try to keep a normal life in this town?
KA: "It is hard but we're pretty grounded people, so we got some friends out here so we just hang out."
Download
Live Like Were Dying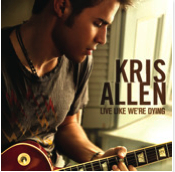 Now!