American Idol Kris Allen will be debuting three songs from his upcoming album at Sunday's Miami Dolphins - New Orleans Saints game.
Arkansas native Allen will be the headline act on the Dolphins tailgate stage before the game on October 25. Some of his performance is scheduled to be televised. The performance will be just prior to the 4:15 p.m. kickoff, according to the Miami Dolphins website.
"As a HUGE football fan I'm thrilled that the first gig for my band and me is the Miami/New Orleans tailgate party for this Sunday's game," Allen said.
Allen's new album will be released November 17.
Download
Live Like Were Dying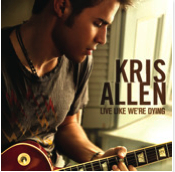 Now!