From Jim Cantiello, MTV Newsroom
It's been a great week to be an "American Idol" fan.
Kris Allen
rocked "The Late Show with David Letterman" in Christmas sweaters on Wednesday (December 16),
Allison Iraheta
ferociously tore through her single on "Jimmy Kimmel Live!" last night and Adam Lambert appeared on nearly every TV show on the air. (I spied Gokey performing his new country material in North Carolina, too.)
Just last Friday (December 11), I caught up with Kris, Adam and Allison (also known as Kradison) before they hit the stage at Madison Square Garden for Z-100's Jingle Ball concert. (Kris was the only
Season 8
"Idol" alum performing that night; the other two were tapped to show off their speaking voices by introducing other acts.) It was a fun gig, what with all of the artists in especially jovial moods, which means our interviews were especially conversational and loose. You know what that leads to: outtakes!
And finally, here's the latest installment of "The Krim Show." (For the uninitiated, Kris Allen nicknamed his "friendship" with me "Krim" in a previous interview. Get it? Kris + Jim = Krim!) We talked about Ben Savage and he mocked my outfit relentlessly. But the big revelation? Kris Allen is as gigantic a dork as I am. Kris, my admiration for you knows no boundaries. Literally, I have no boundaries. How else to explain me saying I planned on being a groupie when he goes on tour in 2010? (Facepalm!)
As far as real news goes, Kris let it slip that he'll be on the road from February to September next year. Score! No dates yet, but you'd best clear your calendar just in case. Kris and his band are shaping up to be an essential must-see live act, performing the heck out of the songs off his debut album as well as throwing in some fantastic covers and mash-ups for good measure.
Order "Kris Allen" Now! from:
iTunes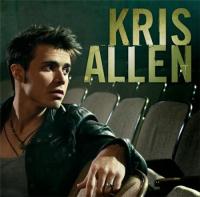 or Amazon